ALA welcomes our first Degree Apprentice
Summer is officially over. To quote a well-known TV series; 'Winter is coming'.
But it's far from all doom and gloom at ALA this week as we welcome Apprentice Quantity Surveyor, Daniel Ashton, to the team.
Daniel is the latest member to join our expanding team at the ALA North office in Kirkby Lonsdale, Cumbria. Having recently finished his A-Level studies, Daniel is our very first candidate to take advantage of Degree Apprenticeship training; a 5-year long scheme resulting in practical on the job training, a degree and professional chartership through the Royal Institute of Chartered Surveyors (RICS).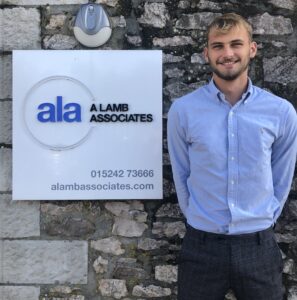 I chose the Degree Apprenticeship route instead of the traditional University route, as the opportunity to develop practical skills whilst studying for a degree appeals to me.  I feel that I am ready to work as a full time employee however, I would still like to continue with academic study, and the degree apprenticeship seems like the perfect way for me to do this.
Daniel Ashton, Apprentice Quantity Surveyor
An offer that's too good to be true, surely? Well actually; no…
This journey started over 12 months ago. An informal office discussion focused on how to fill a growing skills gap in the industry, and how we could address the problem of attracting high quality, local candidates. Often, little is known about Quantity Surveying as a career, and it isn't always at the top of the list of "most desirable jobs". This is despite the rewarding opportunities afforded to those prepared to put in the work. From international travel opportunities, excellent rates of pay and continuous learning and development; this really is a career with huge potential.
After researching our options, we decided that offering a degree apprenticeship was the best route to take. We're an SME; time, resource and cost are a premium that cannot be wasted or taken for granted. Thankfully there are several initiatives that help.
As a non-levy paying organisation, the government covers up to 95% of the course costs; meaning that the employer covers the remaining 5%, plus the associated costs of employment. Candidates taken on through this route must also be given time to dedicate to their studies; 20% of their annual employment time. As this is usually delivered as part of the academic year, candidates are usually expected to attend University one day per week, with the remaining time spent with the employer. This is a fantastic way of blending academic learning with a more vocational approach, giving candidates the best of both worlds; as well as a whole host of practical skills.
A viable alternative
Fast forward a couple of weeks from our initial research, and we are well into the autumn term of 2018. ALA has formed a close partnership with local school, Queen Elizabeth School, Kirkby Lonsdale; and has been speaking to final year A-Level students about their future career options. Attending careers fairs and presenting to the year group, it's interesting to hear that many are now considering alternative routes into further education. What are the drivers for this? The resounding response; debt.
These days, students are likely to graduate with over £50,000 of debt. Repayment calculations are based on how much you earn once you've graduated. A major 2014 study by the Institute of Fiscal studies estimates that around 73% of graduates won't have paid back their full loan, even after 30 years!
Attracted by the almost too-good-to-be-true offer of debt free degree training whilst earning a competitive salary and gaining practical real-world skills – we were faced with 16 eager candidates. Gulp.
Application, Application, Application
We believe that this really is the opportunity of a lifetime. Yes, hard-work is required. Whilst this is an alternative to following a traditional, academic route, it's far from an easy option.
Learning something completely new alongside working full time is no walk in the park. Time management, organisation and an eye for detail paired with excellent communication skills, confidence and drive are not always easy attributes to find. Our application process had to be rigorous enough to test our candidates without scaring them off.
Every candidate who applied did tremendously well, and we were highly impressed with the quality of each submission. Following two construction-based essay questions, and an interview and presentation to a panel of ALA's management team, we found our candidate.
Looking ahead
Daniel is now employed full-time with us, and will be supporting commercial teams in our ALA North office, whilst attending his University placement one day per week at UCLAN in Preston.
Over the next 12 months I would like to develop my core Quantity Surveying skills through working with experienced Quantity Surveyors and learning the basics at University. I'm looking forward to getting out on site visits, and also what it is like to work at a client's site.

Daniel Ashton, Apprentice Quantity Surveyor
Over the next 5 years, Daniel will be exposed to a wealth of experience and opportunity through the work that we are engaged in. We are actively seeking to partner up with clients to ensure a variety of work and welcome the chance to offer a 'skills swap'.
Do you have any opportunities to share? Get in touch – we'd love to hear from you.
Degree Apprenticeship Scheme 2.0
The feedback we've received prior to, and upon, launching this scheme has been overwhelmingly positive. As such, we are looking to recruit candidates for a September 2020 intake.
Are you a candidate with A-Level or equivalent qualifications, interested in a highly rewarding career, offering training and development?
Are you a school or college interested in partnering with us?
We'd love to hear from you – get in touch via email; careers@alambassociates.com
Keep up to date with how the Degree Apprenticeship Scheme is going, along with all other company news and updates by following us on LinkedIn.