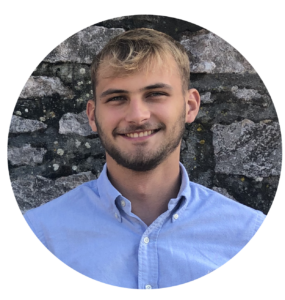 Dan Ashton – Apprentice Quantity Surveyor
Apprenticeship Blog: Building Experience
After a few months in the world of work, I can honestly say that I have no regrets in embarking on the degree apprenticeship scheme at A Lamb Associates (ALA). I have been given so many opportunities to learn, and I have loved building experience.
Over the past few months I have been on my first work placement with Network Plus (formerly Gallaghers). This work has been a hugely beneficial experience for me as I have spent time working with new colleagues, and take part in work that I have never done before. My work relates to contracts installing electrical underground cables. Not only have I learnt how a contract is run and how you can commercially improve them, but I have also learnt how the actual works take place; from digging to installing the cables and even as far as how much work can be done in different types  of ground.
The works I've been involved in
I have been making sure that subcontractors are paid weekly, and also submitting variations of work to the client in order to claim back values for work that have been completed outside of the issued work orders. This is an important role with high responsibility, as this is one of the ways in which a business makes sure they can guarantee profitability; guarding against additional costs over what was originally expected. It's my job to ensure the variations are submitted to the client in a timely manner to ensure no losses are made on the contract.
By doing this, the scheduling team can make any amendments in order to improve the value and tailor the program to make available as much money as possible.
This has been especially beneficial towards my personal development as it has allowed me to understand how electrical cable installation works are completed, as well as the ability to improve both my understanding of the role that finance plays in the contract. I have also learned to be able to communicate with subcontractors in stressful situations. I have enjoyed taking part in this particular set of works as it has given me a greater understanding of what a QS's role is day to day on this particular type of works, as well as understanding the level of detailed analysis that must be done in order to sometimes make a profit. It's important to forecast costs if for some reason, there has been a particularly bad week in terms of un-captured or unexpected costs. This could be as detailed as how much fuel different employees are putting in their vehicles on a week by week basis. This has shown me that often as a QS you must be very detail orientated in terms of evaluating all the costs and try to improve the profit margins.
Opportunity to learn
One especially valuable lesson I have learnt is to prioritise different sets of work given to me by more senior people. I have found that this is an essential skill, as at times I would be given tasks to complete with short notice, carrying a high amount of importance, and I would have to juggle this with my usual workload.
Developing Skills
For future projects, there is a lot of stuff I can take forward using my the experience I have gained so far. I have developed my communication skills, through having to put forward my points and facts in meetings as well as speaking to subcontractors, and thinking laterally when trying to solve problems that  arise day by  day. These skills can also be linked to some of the things I have been learning at university, in terms of learning how to do take off's as well as how important site investigations are along with the construction drawings that are associated with them, and how to interpret them in order to work out what the job actually consists of. This has also helped me greatly in terms of creating construction drawings myself, which is one of my current modules.
Related Links
Interested in running your own Degree Apprenticeship scheme? Check out Tom Lamb's article here. 
Have a read about our Apprenticeship scheme here.
Subscribe to our ALA LinkedIn page to keep up to date with all of our latest news and information, and look out for the next instalment of our Apprenticeship Blog soon.