In the first of our new Apprenticeship Blog series, we hear from our Apprentice Quantity Surveyor, Daniel Ashton, about his experiences so far.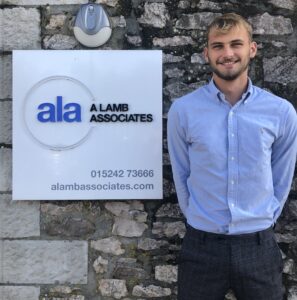 How I discovered Apprenticeships
My experience began when a local firm came into my school and gave a talk about a quantity surveying apprenticeship local to me. They informed me of the type of activities I would be partaking in and after following the recruitment process, I landed myself a job at a local firm called A Lamb Associates (ALA). I have now been working for ALA for just over a month and I am thoroughly enjoying it. I'm gaining first-hand experience in line with my course as well as getting to go to University one day a week on a day release course.
The Benefits
My degree apprenticeship course will take 5 years to complete, and over time I will gain more and more experience and responsibility on the job. Not only this, I also have the chance to become a chartered surveyor with RICS, which hopefully will further my progression through my working life. I have the support of expertly qualified Quantity Surveyors who have been all over the world working on loads of different types of jobs; from offshore wind farms to large oil pipeline jobs. This gives me an advantage over full-time university students as I can gain first-hand experience and learn from my colleagues, who have decades worth of experience. My experience so far has given me the opportunity to experience site visits and working in an office environment, which is a completely new challenge for me coming straight from sixth form into the world of work. For me, I can see no faults with the degree apprentice scheme. Not only do I gain a degree and become a member of one of the most recognisable industry group, RICS, at no cost to me – as well as having my salary paid as a full time employee. I believe that these types of schemes, if presented correctly to 17/18-year olds, will be the future traditional route of education.
My Experience so far
During my time at ALA so far, I have gained invaluable knowledge of the construction industry from my colleagues and experiences. Going to work at a site in Grasmere for the Wordsworth Trust was great, and is a job that we are currently working on. This is incredibly important for my development as I have gained first-hand experience on site. This will give me an advantage over the general cohort of future employees in the construction industry.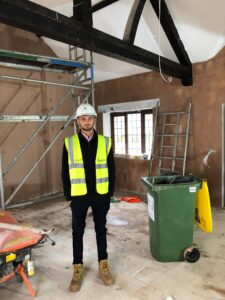 Uncertainty for others
Degree apprenticeships are still in their infancy and in terms of funding. Their future is uncertain, which may lead to certain potential candidates ignoring the path. After speaking to other people who were unsure of what to do after finishing their A levels, a lot of people liked the idea of a degree apprenticeship but haven't been given enough information about the career prospects and benefits that can come from following a degree apprenticeship scheme. Essentially one of the main reasons to pursue this route is the fact that you can become fully qualified whilst earning and learning on the job. I like to describe the route I have taken as earning and learning.
Related Links
Interested in running your own Degree Apprenticeship scheme? Check out Tom Lamb's article here. 
Have a read about our Apprenticeship scheme here.
Subscribe to our ALA LinkedIn page to keep up to date with all of our latest news and information, and look out for the next instalment of our Apprenticeship Blog soon.