Every year, Macmillan Cancer Support encourages people up and down the country to participate in their 'World's Biggest Coffee Morning'. It's the charity's largest fundraising event of the year. In 2018, they raised an incredible £26,914,382.00. All of this money goes back to helping people affected by cancer; from providing nursing care to provide medical, practical and emotional support to facilitating health and well being events to bring people together.
We all know of someone whose life has been affected by cancer. Here at ALA, we have proudly hosted a Macmillan Coffee Morning for the past couple of years, raising over £200 last year. It's a great opportunity to bring people together, and we've raised some money in the process!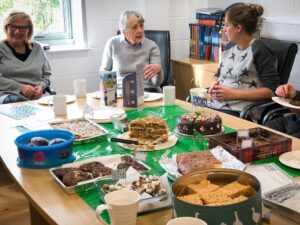 Each year highlights what teamwork can achieve. Our event is small in comparison to others, but we all happily play our part in baking, donating – and not forgetting eating! It creates a real buzz in the office, a bit of friendly competition and we all have a good laugh.
We'd like to say a humongous thank you to everyone who supported and donated today – we hope you enjoyed it as much as we did!
Together, we raised £166.50!