Looking to progress your Quantity Surveying career? From major pipeline projects in the Middle East, working on Europe's tallest building, to working with local clients – no task is too much. Get in touch with us today to see how you can jump start your career.
The answer is simple, opportunity. Read on to find out more.
Success
Our success is built around having the right people as part of our team. In our eyes, the right attitude is just as important as experience. We take great pride in providing a positive, flexible working environment. Our standards are high, and so are the rewards for our team; from competitive salaries to investing heavily in training and development. We will give you the opportunities to ensure your career is a success.
Experience
You will have the opportunity to work with a variety of clients and industry leading professionals on challenging projects based in the UK and further afield; building and developing your skills and experience. Our team environment encourages innovative thinking and collaborative working. This develops best practice initiatives, really helping our clients to reach their potential.
Training
As a RICS accredited organisation, we actively encourage and support all employees to achieve RICS membership. Alongside this, we want to support you in your role. We regularly monitor training requirements and are happy to provide training and learning opportunities. We offer a degree apprenticeship programme in Quantity Surveying, and also look to work with students who are currently studying Quantity Surveying, offering a 12 month sandwich year placement which will compliment your degree and help set you apart from the rest.
Our employees recognise that each and every one of us is responsible for representing our brand and facilitating an open, honest culture. This helps to bring out the best in all of us.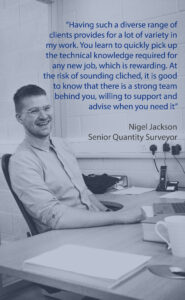 Get in touch with our Recruitment Director or look at our Current Vacancies to find out more about opportunities to work with ALA.